Puma Q4 sales jump 16 pct, maintains 2010 dividend
Published
today
Feb 15, 2011
Feb 15 - German sportswear maker Puma on Tuesday unexpectedly held its 2010 dividend at 2009 levels, even as it reported record fourth-quarter sales growth.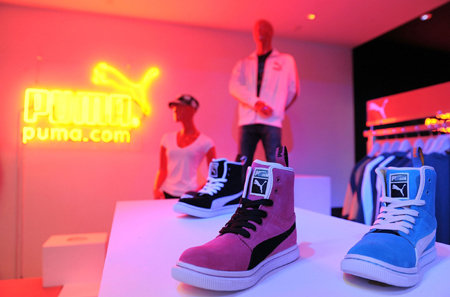 Puma
The company, which sponsors the world's fastest man, Usain Bolt, said maintaining its dividend at 1.80 euro per share reflected the restatement of the 2009 results after it uncovered fraud at its Greek joint venture.
Fourth-quarter sales reached 623.4 million euros ($842 million), up 28 percent in euro terms and 16 percent adjusted for currency effects.
Puma, the world's No. 3 sporting goods maker after Nike and
Adidas
, said it expected mid-to-high single digit sales growth in 2011, a year marked by an absence of major sporting events.
For 2010 as whole, Puma reported adjusted earnings before interest and tax of 337.8 million euros and sales of 2.71 billion. Analysts in a Reuters poll had forecast adjusted EBIT of 343 million euros and sales of 2.64 billion.
Puma is controlled by French luxury goods group PPR, which reports results on Thursday.
(Reporting by Victoria Bryan)
© Thomson Reuters 2020 All rights reserved.