Lululemon's red-hot stock may face risks
Published
today
Jan 31, 2011
Jan 26- Lululemon Athletica Inc's shares, trading at a big premium to peers, could falter if the yogawear retailer's sizzling growth shows signs of cooling.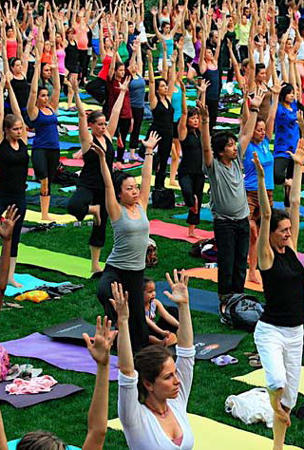 Lululemon : a yoga-inspired athletic apparel company
While growth is not likely to slip soon, it's far from certain how long the company can keep up its breakneck pace of expansion, with the outlook depending heavily on the Canadian company's fate in the U.S. market.
After virtually inventing the yogawear category in Canada, Lululemon has moved aggressively south of the border, where it now operates 82 stores. That compares with 45 in the much smaller Canadian market, where even the shopping bags it hands out with purchases have become a fashion statement.
The company is facing a fresh challenge in the United States from other retailers looking to cash in on the activewear trend, and that could lead to some stalling in Lululemon's growth, analysts say.
"The biggest risk right now is valuation," FBR analyst Liz Dunn said. "With the stock trading where it is, it's vulnerable to any sort of slowdown in trend."
The shares are trading at a multiple of 45 times forward earnings, a steep premium over the 20 times forward earnings for the broader industry, according to StarMine data.
The Vancouver-based company's stock has more than doubled in the last 52 weeks and is up 55 percent in the last three months. Last month, the shares hit a record high of $74.60, a threefold leap since the company went public in 2007.
After topping earnings estimates for at least the last eight straight quarters, Lululemon needs to do more than merely beat forecasts, analysts say. It may now take a blockbuster quarter to keep investors contented.
RETAIL RARITY

Lululemon is a rarity in the retail world. Founded in 1998, it successfully identified a niche and dominated a market in which few rivals have managed to pose a serious challenge.
Those who don the company's yogawear have a strong allegiance to the brand, and its popularity has been reflected in sales growth.
Lululemon's revenue rose 29 percent and 28 percent respectively in the last two fully reported years. Analysts expect growth of 55 percent in the fiscal year ending January 30.
But the growth rate is sure to moderate at some point, Jefferies & Co analyst Taposh Bari said. "That's the law of large numbers."
But ThinkEquity analyst Christian Buss said store productivity in the United States has been lower than in Canada, presenting scope for improvement.
A theme in the U.S. market is intensifying competition. From sporting retailers to fashion chains, more companies are showing interest in the fast-growing athletic apparel market for women, many of whom are drawn to the combination of fashion and functionality they find in Lululemon gear.
"I really don't see competition as a huge risk in the near term," FBR's Dunn said. "So far none has really been able to weaken Lululemon's sales trends."
That said, some of the biggest names in sports apparel, including Nike,
Adidas
and Under Armor, are now selling yoga gear. Most recently, in San Francisco, Gap is experimenting with the opening with its first
Athleta
store specializing in women's activewear. Some analysts say the competition could hurt Lululemon over time.
"When you see a stock like Lululemon valued the way it is, the assumption is basically that the company's market position will go unrivaled for at least five years," Wall Street Strategies analyst Brian Sozzi said.
"As you get an Athleta on the market, the Kenneth Cole line, athletic wear from Kohl's Corp, it could dent the valuation afforded Lululemon shares," he said.
Apparel maker Kenneth Cole Productions Inc plans to launch its first women's sportswear collection this year.
(Reporting by S. John Tilak in Toronto and Nivedita Bhattacharjee in Bangalore; editing by Frank McGurty and Peter Galloway)
© Thomson Reuters 2020 All rights reserved.