Li Ning goes large in Europe
Published
today
Feb 16, 2011
Li Ning has announced a large-scale expansion plan in Europe. The sporting goods company, a big competitor of Nike and Adidas in China, has just signed a long-term contract with Finish group L-Fashion with an initial duration of 14 years. Initially, the group is going to take charge of wholesale distribution in 9 countries: Germany, Austria, Sweden, France, Slovenia, Croatia, Finland, the Netherlands and Russia.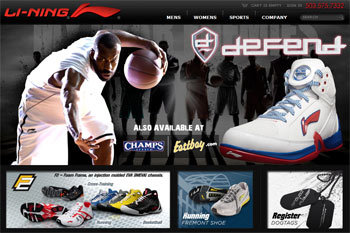 Li Ning is already present in the US basketball scene(li-ningusa.com).
"Li Ning has already been tested in the European market and is specially successful in Spain. We are going to put several teams into place to take charge of sales, marketing and design. The collections are going to be adapted to the body shape of European consumers", indicates Juha Luhtanen, sales director of the L-Fashion Group, known for brands such as Luhta, Icepeak and Rukka. The Group is going to start the new project in Spring/Summer 2012 and will concentrate on wholesales. Other countries are likely to join the list in the near future.
Li Ning is already a giant in China, and accounts for 90% of the group's sales in the world. During the course of the first semester of fiscal year 2010, the brand saw its sales rise above 10% to more than 464 million euros (4.133 billion yuans). International sales only made up 1.1% of the total. From January to June 2010, Li Ning saw its overseas sales increase by more than 50% to nearly 6 million euros.
Copyright © 2020 FashionNetwork.com All rights reserved.